Need Professional Hood Cleaning? Call Vent Tec Today!
30/03/2015 - 2:00pm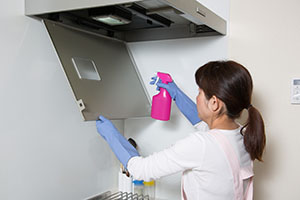 When it comes to running a successful kitchen, restaurant, or diner, the recipe for success is long and complicated. In order to succeed, you need to have the perfect combination of cooks, staff, recipes, equipment, and locations. While all of those are important, your restaurant's success can also be determined by the small things you probably never consider. Here at Vent Tec, we know that keeping your kitchen hood and vents clean is one of those things they never teach you in culinary school or business school but can have a huge impact on your financial future.
Why Hood Cleaning?
At Vent Tec, we believe we provide the best commercial kitchen hood cleaning services anywhere in Seattle. But in order to understand what makes our services unique, you first must understand why hood cleaning is necessary.
Kitchens are messy and dirty places. While you and your staff likely clean the counters and floors each night, it's easy to neglect the hidden recesses and nooks throughout the kitchen. Over time, grease, smoke, and other debris can build up in your hood vents and around heat detection links. This grease is highly flammable and can cause a catastrophic fire in your restaurant. Further, when grease collects around a heat detection link, the sprinkler system won't activate until the fire burns the grease from the detection unit.
Why Us?
At Vent Tec, we have years of experience working, inspecting, and cleaning vents in kitchens throughout the Seattle area. Our experience makes us unique among the competitors in the area. Our technicians are able to assess and diagnose problems that others with less experience might miss. This means you are guaranteed the highest-quality and most thorough service available.
While awards and accreditations don't guarantee quality work, they don't hurt either. We are proud of our A+ rating with the Better Business Bureau. But what does the rating mean to you? It means that we pay close attention to industry standards, customer satisfaction, and our prices.
Unlike many other vent cleaning companies throughout Washington, we offer a full range of services. We specialize in thoroughly cleaning institutional and commercial kitchens. We also work in high-rise buildings and understand the unique requirements these buildings and their kitchens present. Our expert team can work in environmentally sensitive locations and with pollution control units. We provide ultraviolet grease treatment systems to completely eliminate grease and contaminants. We also work in areas with noise restrictions anytime day or night. Finally, our licensed general contractors can install and repair ductwork throughout your business.
The Right Choice
When you need help cleaning the ducts and vents in your kitchen, be sure to give us a call first. Between our extensive list of services and our years of experience, you won't find a better cleaning company anywhere in Seattle. We also offer 24-hour service throughout the area, ensuring you can get the help you need exactly when you need it.
We know that running a successful kitchen, restaurant, or diner requires everything to work smoothly and efficiently. From your head chef to your kitchen vents, perfect harmony is the recipe for success. While we can't give you pointers about your menu, we can make sure your kitchen vents are clean, safe, and in perfect condition.